Similarities of Graduation & a Stretch Limo!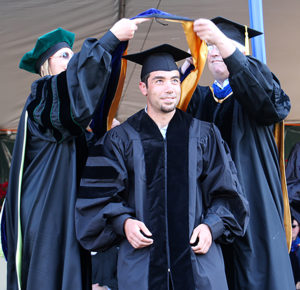 Last weekend we attended a college ceremony in which students were being hooded as they received their master's degree. Originally worn as a head covering during the Middle Ages, the hood is now worn over the neck and is used to identify a graduate's academic institution and degree.  The rich velvet color on the outer edges of the hood denotes the graduated degree, and the shape and size of the hood and the sleeve design of the gown showed the degree a student pursued.
At Primo Transportation, we believe in treating the graduation ceremony as a special occasion with our luxury Lincoln stretch limo, stretch hummer limo, party bus and assortment of fleets. Like the elaborate details of the graduation ceremony from the wearing of the hood, cap and gown, to being "hooded" signified that this is an eventful day to be honored and cherished.We provide personalize attention and can customize your package for the graduate, family and friends. We can also provide shuttle bus rental to and from the event.
We are committed to safety. Primo Transportation has a 5 million dollar insurance policy which can be found on the California public utililties commision's website. We are inspected on a yearly basis by the California Highway  Patrol and all of our vehicles are also subject to a 45 day inspection.
All of our luxury stretch limos and limousine buses are fitted with state of the art amenities and luxury features. Reaching this "rite of passage" deserves all the attention of fine details that we can provide. We at Primo transportation are committed to excellence and quality service. Whether it is a stretch limo, stretch hummer or for the extended family and friends the party bus, we at Primo transportation are committed to providing quality service and an experience to remember. To reserve your spot today please call (408) 509-6330 or click the top tab for "Reservation."
www.primotransportation.net
Please follow and like us:
It's easy to join our mailing list!
Just send your email address by text message:
Text
PRIMOTRANS
to
22828
to get started