Wedding Rings & Champagne: 6 Out-of-The-Box Wedding Transportation Ideas!
Your big day needs some big transportation ideas that will leave guests in awe. While many couples in California hire our luxury limousines—that are the epitome of style and elegance—for their reception, in this blog, we want to talk about a few out-of-the-box ideas that will make for a memorable ride.
Vintage Car
Fulfill your dream of driving/traveling in an antique car by hiring one as your wedding ride. Just think about your favorite model, with the two of you in it with your white wedding gown and a slick tuxedo.
Pro Tip: Take a few trips before the big day in the car and hone your driving skills since its gears and components will not be the same as your latest model at home.
Party Bus
Nothing says party like a party bus arriving at a wedding. If you've hired a whole bus, it's best to invite bridesmaids and groomsmen along for added entertainment. This will also be your last chance to hang out with your best friends as an unmarried soul.
Golf Cart
This is especially handy if you're holding the ceremony outdoors and the reception indoors at the same venue. Hop on a golf court and make your way through the grass in style.
Tractor/Truck
If you've got country in your blood, here's your chance to flaunt it to the world. Decorate a truck with flowers and garlands and crank up the music volume. You're in for an unforgettable romantic country ride.
Carriage with Horse
Have your very own Disney moment by getting a horse and a carriage. Not only will the ride be magical, but you will also get to savor every moment and enjoy attention from the guests waiting at the reception.
To make the experience more fun, keep it a surprise for your partner especially if they've always wanted a fairytale wedding.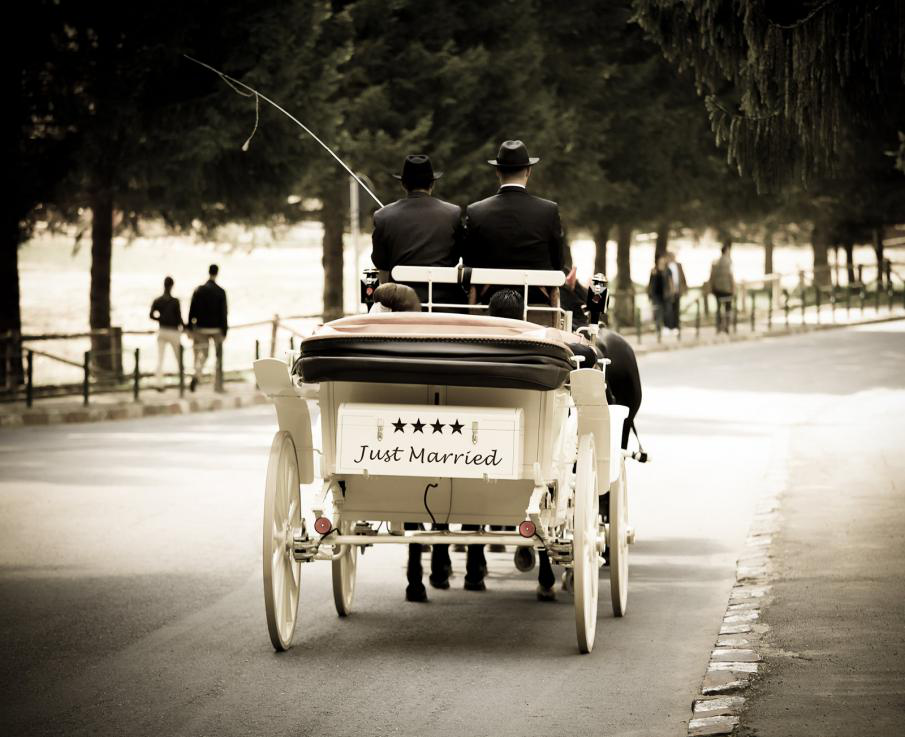 Helicopter
If you've got cash to burn, this can be your go big or go home moment. This is the ultimate arrival and exit ride, given that you can afford it.
If any of these ideas make you skeptical or uncomfortable, go with the traditional yet classy choice of a limousine. It's your wedding day, so keep the experimentation to a minimum and enjoy the day as you see fit.
Get started on your booking by filling out our electronic form or call us at 408-509-6330.
We also provide bachelorette party transportation San Jose, party buses, wedding transportation San Jose for family and guests and airport pick and drop services in San Fran and Oakland, California.
Please follow and like us:
It's easy to join our mailing list!
Just send your email address by text message:
Text
PRIMOTRANS
to
22828
to get started